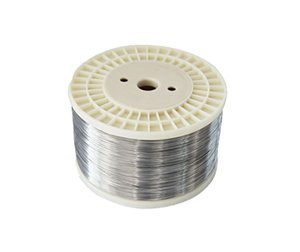 Introduction
Ni35Cr20 resistance alloy is made of nichrome alloy, having high resistivity, good oxidation resistance, good stability and ductility, good welding performance. And the maximum operating temperature is 1100℃, with a service life longer than FeCrAl alloy.
Supplied styles and specifications
Shape
Specification
Wire
Diameter: 0.03mm-8mm
Flat strip
Width: 0.4-40mm
Thickness: 0.03-2.9mm
Strip
Width: 8-250mm
Thickness: 0.1-3.0mm
Foil
Width: 6-120mm
Thickness: 0.003-0.1
Rod
Diameter: 8-100mm
Length: 50-1000 mm
Application
Ni35Cr20 resistance alloy is widely used in storage heater, convection heater, heavy rheostat and fan heater, and deicing element, electric blanket, car cushion, baseboard heater, floor heating and various resistors.
Chemical composition (%)
C
P
S
Mn
Si
Cr
Ni
Al
Fe
Other
≤
0.08
0.02
0.015
1
1.0~3.0
18.0~21.0
34.0~37.0
-
Balance
-
Parameters
Yield strength (Mpa)
Tensile strength
(Mpa)
Elongation (%)
Density (g/cm3)
Resistivity (20℃)
(Ω·mm2/m)
Heat conductivity (20℃)
(W/(m·K))
Average linear expansion coefficient (20℃-1000℃)
(1/℃)
Specific heat capacity (20℃) (J/( kg℃))
Melting point
(℃)
Max. operating temperature (℃)
Magnetism
340
675
35
7.9
1.04
13
19x10-6
0.5
1390
1100
Non-magnetism
Resistance temperature factor (correction factor)
| | | | | | |
| --- | --- | --- | --- | --- | --- |
| 20℃ | 100℃ | 300℃ | 400℃ | 500℃ | 600℃ |
| 1 | 1.029 | 1.09 | 1.115 | 1.139 | 1.157 |
| 700℃ | 800℃ | 1000℃ | 1100℃ | 1200℃ | 1300℃ |
| 1.173 | 1.188 | 1.219 | 1.228 | - | - |
Index
nickel chromium alloy, resistance wire, alloy strip, NiCr alloy